Stalam, pioneer in drying and thermal processing technologies since 1978
The origins
45 years designing and manufacturing state-of-the-art Radio Frequency drying and thermal processing equipment.
The Stalam way.
Established in 1978, Stalam has lately become the world leader in the development, design and manufacture of Radio Frequency (RF) equipment for the drying and thermal processing of raw materials, intermediates and finished industrial products. The drying of textile fibres and yarns, technical-textiles and related products (glass fibres, polymer foams, non-wovens, etc.) is the best known and most widespread application of Stalam's Radio Frequency equipment. Since the late eighties, Stalam's RF technology is also being applied successfully to the post-baking drying of a wide range of bakery products.
Discover more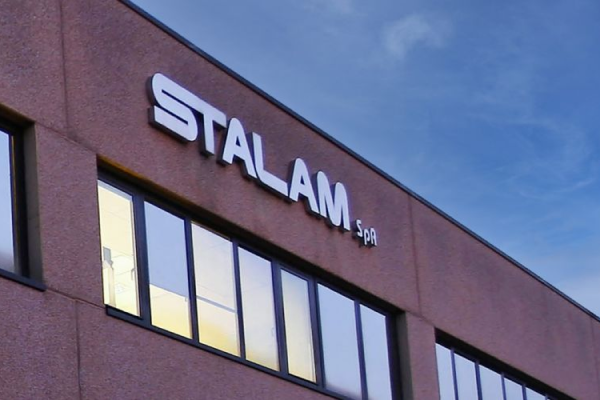 World's no. 1 "fast" RF defrosting and sanitisation equipment
Many innovative applications of the Radio Frequency technology were introduced to the food industry for the first time by Stalam on a truly industrial scale, like the rapid defrosting of frozen fish, meat, vegetables and other raw or processed food products, the pasteurisation and sterilisation of either solid packaged food or liquid products in the tube, the disinfestation and sanitisation in bulk of dry agricultural commodities (nuts, grains, pulses, etc.), aromatic and medicinal herbs, etc.
2600 machines in more than 70 countries
Stalam offers the widest and most advanced range of industrial Radio Frequency drying and thermal processing equipment, which enable their users to obtain the maximum benefits from the RF technology in terms of quality of the finished products, reduced operating costs, high flexibility and reliability. More than 2600 Stalam machines are in operation in more than 70 countries, having rated output power values ranging from 3 to 450 kW; from the simple, manually operated machine, to the fully automated line complete with computerised control and supervision systems.
Successful partnerships with prestigious universities and research institutes
Stalam is a member of Confindustria (the General Confederation of the Italian Industry), of ACIMIT (the Association of Italian Manufacturers of Machinery for the Textile Industry), of AEI (the Italian Electronic and Electro-technical Association) and has established long-term collaborations with prestigious universities, research institutes and leading European machinery manufacturers for the development of innovative thermal processing technologies and for the supply of turn-key automated and integrated production lines.
A global market approach: a j-v in China and servicing centres scattered all around the world
In pursuance of its global market approach, in 2005 Stalam has established a subsidiary in China, in j-v with local partners, to exploit more effectively the opportunities offered by the fast growing Far Eastern economies. Exporting more than 95% of its products to the five continents, Stalam provides professional and prompt commercial and technical assistance in all relevant industrial areas throughout the world, thanks to its well-structured sale and servicing organisation.